notAmos Performing Editions
1 Lansdown Place East, Bath
BA1 5ET, UK
+44 (0) 1225 316145
Email

Performing editions of pre‑classical music
with full preview/playback and instant download

Full score (PDF), €0.00 for unlimited copies Download this item
Printable cover page (PDF), €0.00 for unlimited copies Download this item

Please click here to report any problem obtaining a PDF

Click on the illustration to display a larger version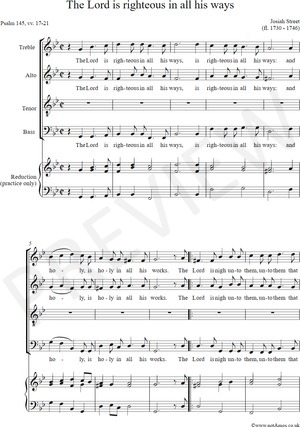 Page 1 of 5
From "A book containing great variety of Anthems", second edition 1746. The book was published without subscribers but the list of booksellers given on the title page indicates Street's audience: in Barnsley, Chesterfield, Halifax, Leeds, Pontefract, Rotherham, Sheffield and Wakefield, or from the publisher in London, or from the author in Skipton (Almonbury in the first edition, 1730).

A reduction is provided for practice purposes, but should be eschewed in performance.
Lyrics: Psalm 145, vv. 17-21

The Lord is righteous in all his ways: and holy in all his works.
The Lord is nigh unto all them that call upon him: yea, all such as call upon him faithfully.
He will fulfil the desire of them that fear him: he also will hear their cry, and will save them.
The Lord preserveth all them that love him: but scattereth abroad all the ungodly.
My mouth shall speak the praise of the Lord: and let all flesh give thanks unto his holy Name for ever and ever.