notAmos Performing Editions
1 Lansdown Place East, Bath
BA1 5ET, UK
+44 (0) 1225 316145
Email

Performing editions of pre‑classical music
with full preview/playback and instant download

Benjamin Cooke

(1734 - 1793)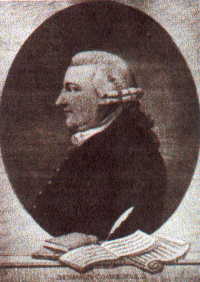 Lawn as white as driven snow

(S.T.B.)
Full score (PDF), €0.20 for a single copy Buy this item
Choir offer (PDF), €1.05 for 9 copies Buy this item
Printable cover page (PDF), €0.00 for unlimited copies Download this item

Please click here to report any problem obtaining a PDF
Page 1 of 3
For licensing/copyright information please click
here
From Cooke's collection Op. 5, edited and issued posthumously by his son, Robert Cooke. 1795.
Lyrics: William Shakespeare

Lawn as white as driven snow,
Cyprus black as e'er was crow,
Gloves as sweet as damask roses,
Masks for faces and for noses;
Bugle bracelets, necklace-amber,
Perfume for a lady's chamber,
Golden quoifs and stomachers
For my lads to give their dears.
Pins and shining toys of steel,
What maids lack from head to heel:
Come buy of me, lads buy,
Or else your lasses cry.