notAmos Performing Editions
1 Lansdown Place East, Bath
BA1 5ET, UK
+44 (0) 1225 316145
Email

Performing editions of pre‑classical music
with full preview/playback and instant download

Thomas Arne

(1710 - 1778)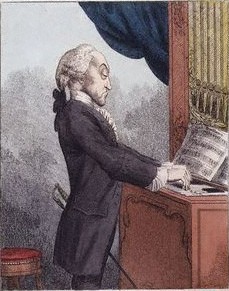 My bliss too long my bride denies

(Song)
Full score (PDF), €0.15 for a single copy Buy this item
Printable cover page (PDF), €0.00 for unlimited copies Download this item

Please click here to report any problem obtaining a PDF
Page 1 of 1
For licensing/copyright information please click
here
The serenade inserted into an updated production of The Merchant of Venice, c.1750. The text has been co-opted from a love-song purportedly translated from the Lapp, and printed by Steele in the Spectator in 1712.
Lyrics: Richard Steele

My bliss too long my bride denies,
Apace the wafting summer flies;
Nor yet the wint'ry blast I fear,
Nor storms or night shall keep me here.

What may for strength with steel compare?
Oh, love has fetters stronger far;
By bolts of steel are limbs confin'd,
But cruel love enchains the mind.

No longer then perplex thy breast;
When thoughts torment the first are best;
'Tis mad to go, 'tis death to stay;
Away my Jessie, haste away.