notAmos Performing Editions
1 Lansdown Place East, Bath
BA1 5ET, UK
+44 (0) 1225 316145
Email

Performing editions of pre‑classical music
with full preview/playback and instant download

Full score (PDF), €0.00 for unlimited copies Download this item
Printable cover page (PDF), €0.00 for unlimited copies Download this item

Please click here to report any problem obtaining a PDF

Click on the illustration to display a larger version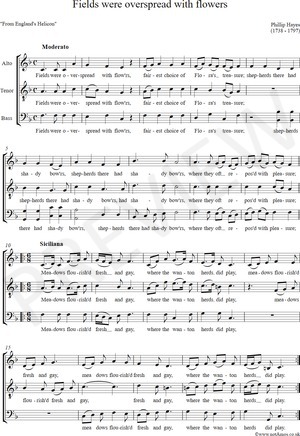 Page 1 of 5
This work, Hayes : Fields were overspread with flowers : scoreid 148232
, as published by
notAmos Performing Editions
, is licensed under a
Creative Commons Attribution-ShareAlike 4.0 International License
. All relevant attributions should state its URL as
https://www.notamos.co.uk/detail.php?scoreid=148232
. Permissions beyond the scope of this licence may be available at
https://www.notamos.co.uk/index.php?sheet=about
.
Published in The Muses' Delight, 1786.
Lyrics: "From England's Helicon"

Fields were overspread with flowers,
Fairest choice of Flora's treasure;
Shepherds there had shady bowers,
Where they oft repos'd with pleasure;
Meadows flourished fresh and gay,
Where the wanton herds did play.

Springs more clear than crystal streams
Seated were the groves among;
Thus nor Titan's scorching beams,
Nor the earth's drought could shepherds wrong;
Fair Pomona's fruitful pride
Did the budding branches hide.

Flocks of sheep fed on the plains,
Harmless sheep that roamed at large;
Here and there sat pensive swains,
Waiting on their wandering charge;
Pensive while their lasses smiled,
Lasses which had them beguil'd.

Hills with trees were richly dight,
Valleys stored with Vesta's wealth;
Both did harbour sweet delight,
Nought was there to hinder wealth;
Thus did heaven grace the soil,
Not deform'd with workman's toil.

Purest plot of earthly mould
Might that land be justly named;
Art by nature was controlled,
Art which no such pleasure framed;
Fairer place was never seen,
Fittest place for beauty's queen.