notAmos Performing Editions
1 Lansdown Place East, Bath
BA1 5ET, UK
+44 (0) 1225 316145
Email

Performing editions of pre‑classical music
with full preview/playback and instant download

Richard Alison

(fl.1586 - 1606)


My prime of youth is but a frost of cares

(S.S.A.B.)
Full score (PDF), €0.00 for unlimited copies Download this item
Printable cover page (PDF), €0.00 for unlimited copies Download this item

Please click here to report any problem obtaining a PDF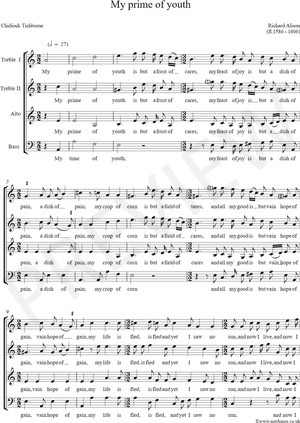 Page 1 of 5
This work, Alison : My prime of youth is but a frost of cares : scoreid 148318
, as published by
notAmos Performing Editions
, is licensed under a
Creative Commons Attribution-ShareAlike 4.0 International License
. All relevant attributions should state its URL as
https://www.notamos.co.uk/detail.php?scoreid=148318
. Permissions beyond the scope of this licence may be available at
https://www.notamos.co.uk/index.php?sheet=about
.
Published in An Howres Recreation in Musicke, London, 1606, and (according to the frontispiece) "framed for the delight of gentlemen and others which are well affected to that quality; all for the most part with two trebles necessary for such as teach in private families".
Lyrics: Chidiock Tichborne

My prime of youth is but a frost of cares;
My feast of joy is but a dish of pain;
My crop of corn is but a field of tares,
And all my good is but vain hope of gain:
My life is fled, and yet I saw no sun,
And now I live, and now my life is done.

The spring is past, and yet it hath not sprung;
The fruit is dead, and yet my leaves are green;
My youth is spent, and yet I am but young;
I saw the world, and yet I was not seen:
My thread is cut, and yet it is not spun,
And now I live, and now my life is done.