notAmos Performing Editions
1 Lansdown Place East, Bath
BA1 5ET, UK
+44 (0) 1225 316145
Email

Performing editions of pre‑classical music
with full preview/playback and instant download

Joseph Baildon

(c.1727 - 1774)


Adieu to the village delights

(T.T.B.)
Full score (PDF), €1.00 for a single copy Buy this item
Choir offer (PDF), €5.00 for 9 copies Buy this item
Printable cover page (PDF), €0.00 for unlimited copies Download this item

Please click here to report any problem obtaining a PDF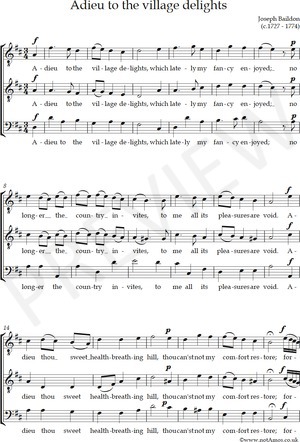 Page 1 of 5
For licensing/copyright information please click
here
From the glee club repertoire.
Lyrics: Anon, probably the composer

Adieu to the village delights,
Which lately my fancy enjoyed;
No longer the country invites;
To me all its pleasures are void.
Adieu thou sweet health-breathing hill,
Thou can'st not my comfort restore;
For ever adieu, my dear vill;
My Lucy, alas, is no more.
She was the cure of my pain,
My blessing, my honour, my pride;
She ne'er gave me cause to complain,
Til that fatal day when she died.
Her eyes that so beautiful shone
Are closed for ever in sleep;
And mine, since my Lucy is gone,
Have nothing to do but to weep.
Could my tears the bright angel restore,
Like a fountain they never would cease;
But Lucy alas is no more,
And I am a stranger to peace.
Let me copy with fervour devout
The virtues that glowed in her heart;
Then soon, when life's sand is run out,
We shall meet again, never to part.