notAmos Performing Editions
1 Lansdown Place East, Bath
BA1 5ET, UK
+44 (0) 1225 316145
Email

Performing editions of pre‑classical music
with full preview/playback and instant download

John Bishop

(1665 - 1737)


I am well pleased

(S.A.T.B. + reduction)
Full score (PDF), €1.00 for a single copy Buy this item
Choir offer (PDF), €7.00 for 12 copies Buy this item
Printable cover page (PDF), €0.00 for unlimited copies Download this item

Please click here to report any problem obtaining a PDF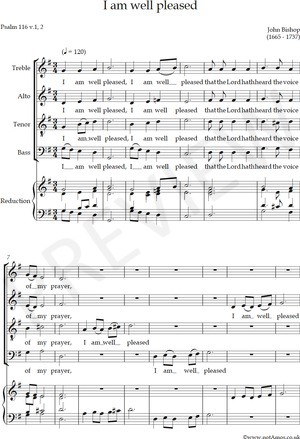 Page 1 of 5
For licensing/copyright information please click
here
Bishop was organist of both the Cathedral and the College in Winchester. His 'Choice collection of eleven anthems' was published by Michael Broome in Birmingham, 1754, with another edition ("Divine Harmony") in 1758. It was published for country (predominantly organless) parishes. Organ reductions provided here are best reserved for rehearsal.
Lyrics: Psalm 116, v.1,2

I am well pleased: that the Lord hath heard the voice of my prayer.
That he hath inclined his ear unto me: therefore will I call upon him as long as I live.
Amen.