notAmos Performing Editions
1 Lansdown Place East, Bath
BA1 5ET, UK
+44 (0) 1225 316145
Email

Performing editions of pre‑classical music
with full preview/playback and instant download

Continuo score (PDF), €1.20 for a single copy Buy this item
Violin/Flute I part (PDF), €1.00 for unlimited copies Buy this item
Violin/Flute II part (PDF), €1.00 for unlimited copies Buy this item
Violoncello part (PDF), €1.00 for unlimited copies Buy this item
Printable cover page (PDF), €0.00 for unlimited copies Download this item
Score, part(s) and cover page (PDF), €3.00 for bundled copies Buy this item

Please click here to report any problem obtaining a PDF

Click on the illustration to display a larger version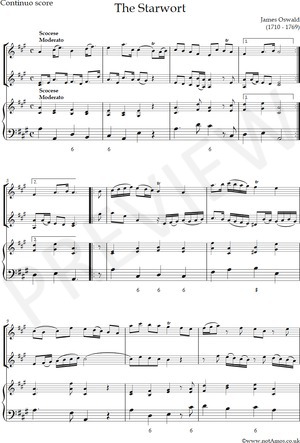 Page 1 of 6
For licensing/copyright information please click
here
Scocese Moderato - Tempo di Minuetto4

James Oswald wrote two sets of Airs for the Seasons, each set comprising twelve pieces for each season; a total of ninety-six miniatures, each representing a plant at its most distinctive period in the year. The original pieces survive as figured keyboard solos (also available) playable as violin/flute sonatas. Oswald later provided second violin/flute parts for the first set of Airs, which can be performed with or without the second part.

The pieces for Autumn are: Amaranthus, Ambrosia, Aster, Belvedere, Campanula*, Candytuft, Capsicum, Daisy, Hawkweed, Jasmine, Marigold, Marvel of Peru, Monk's hood, Nightshade, Oriental mallow, Oxeye, Passiflora*, Scabious, Sneezewort, Spanish broom*, Starwort, Sumach, Sweet sultan, Violet. All are suitable for violin(s), or (except where marked *) for flute(s).