notAmos Performing Editions
1 Lansdown Place East, Bath
BA1 5ET, UK
+44 (0) 1225 316145
Email

Performing editions of pre‑classical music
with full preview/playback and instant download

Full score (PDF), €1.00 for a single copy Buy this item
Choir offer (PDF), €7.00 for 12 copies Buy this item
Printable cover page (PDF), €0.00 for unlimited copies Download this item

Please click here to report any problem obtaining a PDF

Click on the illustration to display a larger version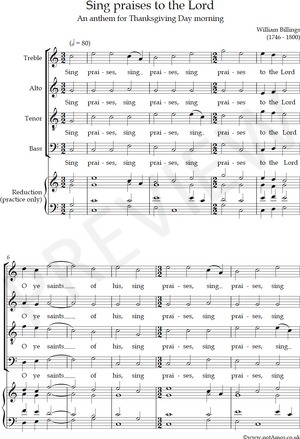 Page 1 of 11
For licensing/copyright information please click
here
An anthem for Thanksgiving Day morning from Billings' Continental Harmony, 1794. The reduction should be reserved for rehearsal. I have attempted to preserve the differences in relative speed shewn in the original. Billings' own absolute tempi are well documented (a pulse of c.60 per minute would apply to this piece) but have been increased, more readily to accord with the modern audience's attention span.
Lyrics: Psalm 30, v.4,5

Sing praises to the Lord, O ye saints of his.
For his wrath endures but a moment, and in his favour is life for evermore: heaviness may endure for a night, but joy cometh in the morning.