notAmos Performing Editions
1 Lansdown Place East, Bath
BA1 5ET, UK
+44 (0) 1225 316145
Email

Performing editions of pre‑classical music
with full preview/playback and instant download

Full score (PDF), €1.10 for a single copy Buy this item
Choir offer (PDF), €7.50 for 12 copies Buy this item
Printable cover page (PDF), €0.00 for unlimited copies Download this item

Please click here to report any problem obtaining a PDF

Click on the illustration to display a larger version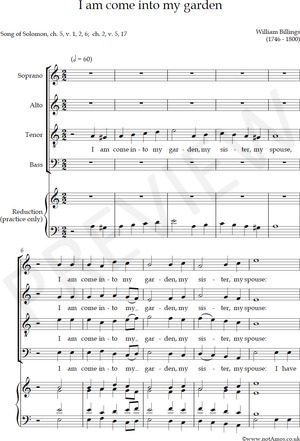 Page 1 of 11
For licensing/copyright information please click
here
From Billings' Continental Harmony, 1794. The reduction should be reserved for rehearsal. The tempo follows Billings' own writings on the subject.
Lyrics: Song of Solomon ch. 2, 5 (adapted)

I am come into my garden, my sister, my spouse: I have gathered my myrrh with my spice; I have eaten my honeycomb with my honey, I have drank my wine with my milk. Eat, O friends; drink, O friends, eat abundantly,
I sleep, but my heart waketh; it is the voice of my beloved, saying: Open to me, my sister, my love, my dove, my undefiled,
for my head is fill'd with dew, and my locks with the drops of the night:
I open'd to my beloved; but my beloved had withdrawn himself, and he was gone: I sought him but I could not find him; I call'd him, but he gave me no answer.
Stay me with flagons, comfort me with apples: for I am sick of love.
Make haste, my beloved, and be like a roe or a young hart upon the mountains of spices.