notAmos Performing Editions
1 Lansdown Place East, Bath
BA1 5ET, UK
+44 (0) 1225 316145
Email

Performing editions of pre‑classical music
with full preview/playback and instant download

Henry Purcell

(1659 - 1695)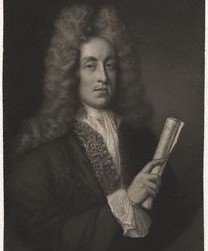 Bonduca

(String or reed band)
Strings (Vn.Vn.Va.Vc.): score, parts, and cover page (PDF), €7.80 for bundle Buy this item
Reeds (Ob.Ob.CorAng.Bass.): score, parts, and cover page (PDF), €7.80 for bundle Buy this item

Please click here to report any problem obtaining a PDF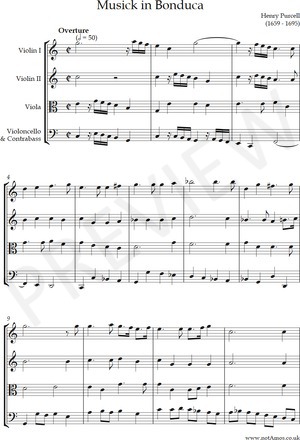 Page 1 of 16
For licensing/copyright information please click
here
Overture - 2. Song Tune - 3. Song Tune - 4. Aire - 5. Hornpipe - 6. Aire - 7. Hornpipe - 8. Aire - 9. Minuett

The first Song Tune is "Britons strike home". Although anodyne to the modern ear this was, in the century following its composition, the patriotic song without rival. When ordered to play it, the band could be relied upon to create in Tommy Lobster a berserker-like fighting frenzy, be it on the Heights of Abraham or in the Theatre Royal, Drury Lane.

This set comes from "A collection of ayres, compos'd for the theatre" pub. J. Heptinstal for Frances Purcell soon after the composer's death. Conceived for strings, but also suitable for wind bands.