notAmos Performing Editions
1 Lansdown Place East, Bath
BA1 5ET, UK
+44 (0) 1225 316145
Email

Performing editions of pre‑classical music
with full preview/playback and instant download

Henry Harington

(1727 - 1816)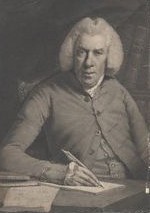 Farewell dear shade

(T.T.B. + reduction)
Full score (PDF), €1.00 for a single copy Buy this item
Choir offer (PDF), €5.00 for 9 copies Buy this item
Printable cover page (PDF), €0.00 for unlimited copies Download this item

Please click here to report any problem obtaining a PDF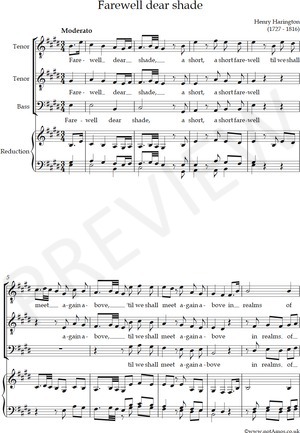 Page 1 of 5
For licensing/copyright information please click
here
From "Songs, duets and other compositions by Doctor Harington of Bath never before published. Studio fallente laborem. London. Printed for the author & sold by the engraver E. Riley No. 8 Strand J. Preston No. 97 Strand Lintern's Bath &c" 1800.
Lyrics: Anon, probably the composer

Farewell, dear shade, a short farewell
'Til we shall meet again above,
In realms of bliss, where pleasures dwell,
And spirits pure taste fruits of love;
Whilst this dear dust here left behind
Sleeps in thy bosom, sacred tomb,
Soft be thy bed, thy slumbers kind,
And all thy dreams of joys to come.