notAmos Performing Editions
1 Lansdown Place East, Bath
BA1 5ET, UK
+44 (0) 1225 316145
Email

Performing editions of pre‑classical music
with full preview/playback and instant download

Henry Harington

(1727 - 1816)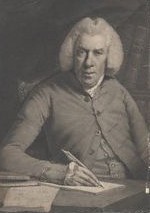 Weep gentle shepherds

(S.S.A.T.B. + reduction)
Full score (PDF), €1.20 for a single copy Buy this item
Choir offer (PDF), €10.50 for 15 copies Buy this item
Printable cover page (PDF), €0.00 for unlimited copies Download this item

Please click here to report any problem obtaining a PDF
Page 1 of 6
For licensing/copyright information please click
here
Broderip was organist of Wells Cathedral from 1741 until his death.
Lyrics: Anon, probably the composer

Weep gentle shepherds,
Fair Delia is no more;
Now in strains of plaintive woe
Her hapless fate deplore.

Where are her charms, her heavenly grace,
That won the ruptur'd fight?
Ah, lost the glories of her face;
No more the world's delight.

Sleep, sacred dust, within this tomb;
Sweet be thy dreams of joys to come.