notAmos Performing Editions
1 Lansdown Place East, Bath
BA1 5ET, UK
+44 (0) 1225 316145
Email

Performing editions of pre‑classical music
with full preview/playback and instant download

John Clarke-Whitfeld

(1770 - 1836)


The Bard

(S.A.T.B. + reduction)
Full score (PDF), €1.30 for a single copy Buy this item
Choir offer (PDF), €9.00 for 12 copies Buy this item
Printable cover page (PDF), €0.00 for unlimited copies Download this item

Please click here to report any problem obtaining a PDF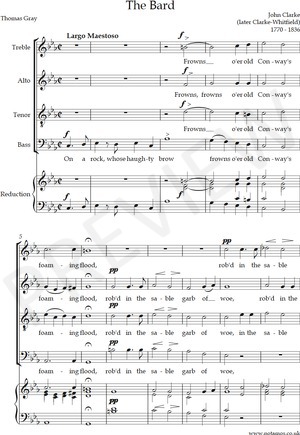 Page 1 of 13
For licensing/copyright information please click
here
Glee for four Voices, as sung by Master Kellner, Mr Goss, Mr Vaughan & Mr J. B. Sale, composed by Dr John Clarke of Cambridge. London. Printed & sold by PRESTON at his wholesale Warehouses 97, Strand. Pr 3/-.
Lyrics: Thomas Gray

On a rock, whose haughty brow
Frowns o'er old Conway's foaming flood,
Robed in the sable garb of woe,
With haggard eyes the poet stood;
Loose his beard and hoary hair
Streamed like a meteor to the troubled air;
And with a master's hand and prophet's fire
Struck the deep sorrows of his lyre.