notAmos Performing Editions
1 Lansdown Place East, Bath
BA1 5ET, UK
+44 (0) 1225 316145
Email

Performing editions of pre‑classical music
with full preview/playback and instant download

William Byrd

(c.1540 - 1623)


This day Christ was born

(S.S.A.A.T.B. (or A.A.T.T.B.B.))
Full score (PDF), €1.00 for a single copy Buy this item
Transposed score (PDF), €1.00 for a single copy Buy this item
Choir offer (PDF), €10.50 for 18 copies Buy this item
Choir offer - transposed score (PDF), €10.50 for 18 copies Buy this item
Printable cover page (PDF), €0.00 for unlimited copies Download this item

Please click here to report any problem obtaining a PDF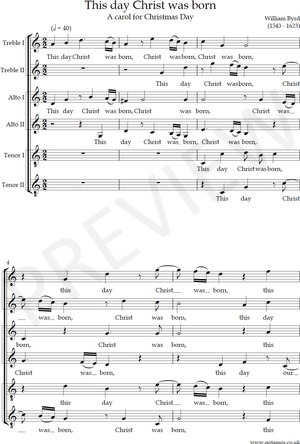 Page 1 of 10
For licensing/copyright information please click
here
Psalms, Songs and Sonnets.... London, 1611. This edition is offered at original pitch, or transposed down a fifth for A.A.T.T.B.B.
Lyrics: Latin Antiphon

This day Christ was born,
This day our Saviour did appear,
This day the angels sing in earth,
The archangels are glad.
This day the just rejoice, saying:
Glory be to God on high. Alleluia.