notAmos Performing Editions
1 Lansdown Place East, Bath
BA1 5ET, UK
+44 (0) 1225 316145
Email

Performing editions of pre‑classical music
with full preview/playback and instant download

Luffman Atterbury

(1740 - 1796)


Adieu ye streams

(A.T.T.B. + reduction)
Full score (PDF), €0.50 for a single copy Buy this item
Choir offer (PDF), €3.50 for 12 copies Buy this item
Printable cover page (PDF), €0.00 for unlimited copies Download this item

Please click here to report any problem obtaining a PDF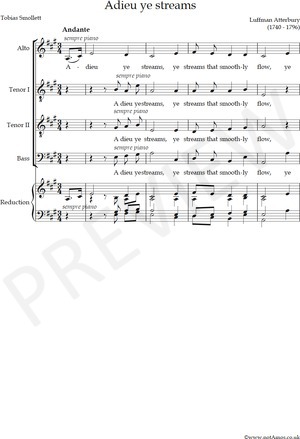 Page 1 of 4
For licensing/copyright information please click
here
This glee gained a Catch Club prize medal in 1778.
Lyrics: Tobias Smollett

Adieu ye streams, that smoothly flow,
Ye vernal airs that softly blow,
Ye trees, by blooming spring array'd,
Ye birds that warble through the shade.
Unhurt from you my soul could fly,
Nor drop one tear, nor heave one sigh;
But forced from Celia's charms to part
All joy deserts my drooping heart.