notAmos Performing Editions
1 Lansdown Place East, Bath
BA1 5ET, UK
+44 (0) 1225 316145
Email

Performing editions of pre‑classical music
with full preview/playback and instant download

Full score (PDF), €1.00 for a single copy Buy this item
Choir offer (PDF), €9.00 for 15 copies Buy this item
Printable cover page (PDF), €0.00 for unlimited copies Download this item

Please click here to report any problem obtaining a PDF

Click on the illustration to display a larger version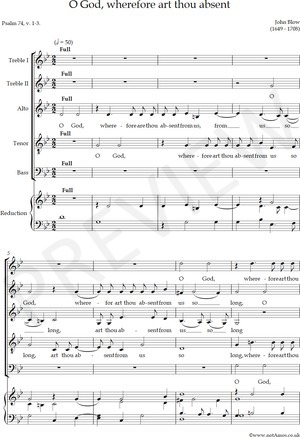 Page 1 of 9
For licensing/copyright information please click
here
Blow wrote fourteen services and over one hundred anthems, of which all but a few remained unpublished at his death. This anthem was published by Boyce in his Cathedral Music.
Lyrics: Psalm 74, v. 1-3

O God, wherefore art thou absent from us so long: why is thy wrath so hot against the sheep of thy pasture?
O think upon thy congregation: whom thou hast purchased and redeemed of old.
Think upon the tribe of thine inheritance: and Mount Sion, wherein thou hast dwelt.