notAmos Performing Editions
1 Lansdown Place East, Bath
BA1 5ET, UK
+44 (0) 1225 316145
Email

Performing editions of pre‑classical music
with full preview/playback and instant download

Thomas Chilcot

(c.1707 - 1766)


Place beneath a spreading vine (full accompaniment)

(S./T.2Vn.Va.Vc.Kbd.)
Full score (PDF), €0.60 for a single copy Buy this item
Violin I part (PDF), €0.20 for unlimited copies Buy this item
Violin II part (PDF), €0.20 for unlimited copies Buy this item
Viola part (PDF), €0.20 for unlimited copies Buy this item
Violoncello and Contrabass part (PDF), €0.20 for unlimited copies Buy this item
Voice and Keyboard part (PDF), €0.20 for unlimited copies Buy this item
Printable cover page (PDF), €0.00 for unlimited copies Download this item
Score, part(s) and cover page (PDF), €1.50 for bundled copies Buy this item

Please click here to report any problem obtaining a PDF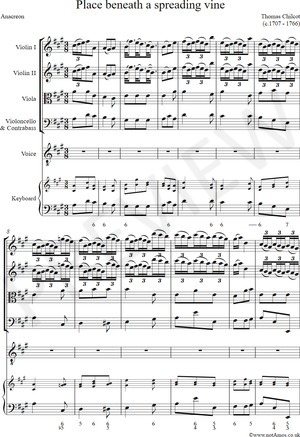 Page 1 of 10
For licensing/copyright information please click
here
Chilcot's "Twelve English songs", 1744, a collection of fully accompanied concert songs, was one of the earliest collections of its kind, and also one of the most successful. The subscription list included both composers (amongst them, Avison, Boyce and Handel) and patrons amongst the Ton of London and Bath, where Chilcot was organist at the Abbey. The songs were probably intended for public performance, at the Pump Room or various Assembly Rooms in Bath, or at pleasure gardens in Bath or London. The vocal line in the original print employs the standard "unisex" treble clef. I have allocated songs to Tenor or Soprano depending upon subject matter, but any song may be taken by either voice, with the exception of "Come thou monarch of the vine", for which Chilcot specified a Bass/Baritone (Tenor in this edition). Each song is available with full orchestral parts. Versions are also available with condensed orchestral parts in the keyboard, enabling performance in reduced musical circumstances.
Lyrics: Anacreon

Place beneath a spreading vine Evius, god of mirth and wine,
Bacchus, son of wanton Jove, place the beauteous queen of love,
Goddess of the lures and wiles, place the laughters and the smiles,
Place the loves with bowls unbound, Hymen place amidst the round,
Last, in decent order, place ev'ry sweet attracting grace.