notAmos Performing Editions
1 Lansdown Place East, Bath
BA1 5ET, UK
+44 (0) 1225 316145
Email

Performing editions of pre‑classical music
with full preview/playback and instant download

Francis Ireland

(c.1722 - 1773)


Jolly Bacchus

(A.T.B. + reduction)
Full score (PDF), €1.00 for a single copy Buy this item
Choir offer (PDF), €5.00 for 9 copies Buy this item
Printable cover page (PDF), €0.00 for unlimited copies Download this item

Please click here to report any problem obtaining a PDF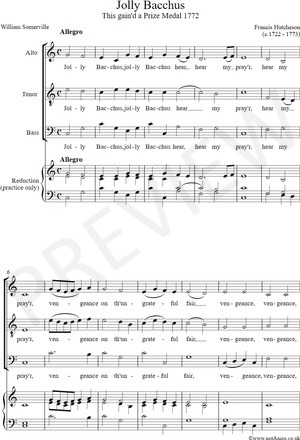 Page 1 of 16
For licensing/copyright information please click
here
This glee gained a Catch Club prize medal in 1772.
Lyrics: William Somerville

Jolly Bacchus hear my pray'r,
Vengeance on th'ungrateful fair.
In thy smiling cordial bowl
Drown the sorrows of my soul.
Jolly Bacchus, save, O save
From the deep devouring grave
A poor despairing, dying swain.
Haste away, haste away,
Lash thy tigers, do not stay;
I'm undone if thou delay.
If I view those eyes once more,
Still shall love and still adore,
And be more wretched than before.