notAmos Performing Editions
1 Lansdown Place East, Bath
BA1 5ET, UK
+44 (0) 1225 316145
Email

Performing editions of pre‑classical music
with full preview/playback and instant download

Richard John Samuel Stevens

(1757 - 1837)


When the toil of day is o'er

(S.A.T.B. + reduction)
Full score (PDF), €0.40 for a single copy Buy this item
Choir offer (PDF), €2.50 for 12 copies Buy this item
Printable cover page (PDF), €0.00 for unlimited copies Download this item

Please click here to report any problem obtaining a PDF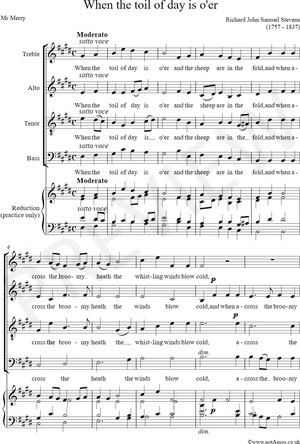 Page 1 of 5
For licensing/copyright information please click
here
"A favorite Glee for 4 Voices, as Performed with the greatest applause at Messrs. Harrison and Knyvett's Vocal Concerts, Willis's Rooms, Set to Music by R.J.S.Stevens. The poetry by Mr Merry, Printed by Permission of Mr Goulding. Printed for the Author, Charterhouse."
Lyrics: Mr Merry

When the toil of day is o'er
And the sheep are in the fold,
And when across the broomy heath
The whistling winds blow cold;
When the village dogs in fear
At the moon begin to howl
And from some tott'ring wall is heard
The melancholy owl;
Then ev'ry danger is abroad
And grisly spectres glide,
While through the air, with dire intent,
The witch and wizard ride.