notAmos Performing Editions
1 Lansdown Place East, Bath
BA1 5ET, UK
+44 (0) 1225 316145
Email

Performing editions of pre‑classical music
with full preview/playback and instant download

John Alcock

(1715 - 1806)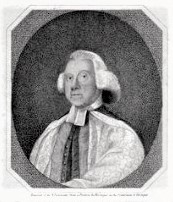 Friendship, thou dearest blessing

(A.T.T.B. + reduction)
Full score (PDF), €0.40 for a single copy Buy this item
Choir offer (PDF), €2.50 for 12 copies Buy this item
Printable cover page (PDF), €0.00 for unlimited copies Download this item

Please click here to report any problem obtaining a PDF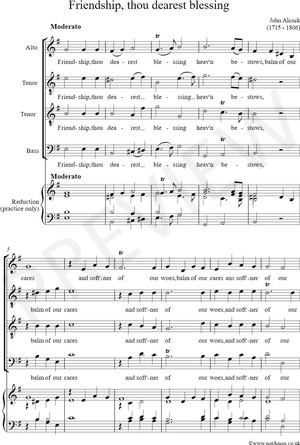 Page 1 of 4
For licensing/copyright information please click
here
Between 1763 and 1794 Thomas Warren published, through differing publishers, an annual collection of catches, canons and glees, under the aegis of the Catch Club. This item was published in the fourteenth such collection.
Lyrics: Anon

Friendship, thou dearest blessing heav'n bestows,
Balm of our cares and soft'ner of our woes,
I at thy shrine my willing tribute pay,
And to thine honour consecrate my lay.
Thy form is lovely, and thy fruit divine,
For love, and peace, and joy, and truth are thine;
And kindred souls who feel this happy flame
Enjoy a fund of bliss that wants a name.