notAmos Performing Editions
1 Lansdown Place East, Bath
BA1 5ET, UK
+44 (0) 1225 316145
Email

Performing editions of pre‑classical music
with full preview/playback and instant download

Anon

(c.1785)


This tomb be thine, Anacreon

(A.T.T.B. + reduction)
Full score (PDF), €0.30 for a single copy Buy this item
Choir offer (PDF), €2.00 for 12 copies Buy this item
Printable cover page (PDF), €0.00 for unlimited copies Download this item

Please click here to report any problem obtaining a PDF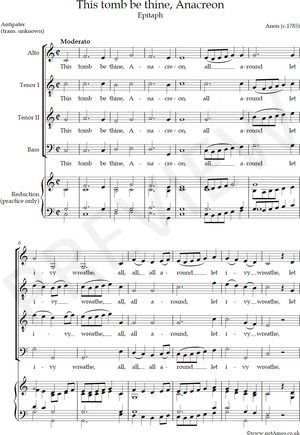 Page 1 of 7
For licensing/copyright information please click
here
The composer of this social glee is not recorded in the manuscript source.
Lyrics: Antipater (trans. Unknown)

This tomb be thine, Anacreon, all around
Let ivy wreathe, let flowrets deck the ground;
And from its earth, enriched with such a prize,
Let wells of milk and streams of wine arise.
So shall thine ashes yet a pleasure know,
If any pleasure reach the shades below.