notAmos Performing Editions
1 Lansdown Place East, Bath
BA1 5ET, UK
+44 (0) 1225 316145
Email

Performing editions of pre‑classical music
with full preview/playback and instant download

Benjamin Milgrove

(1731 - 1810)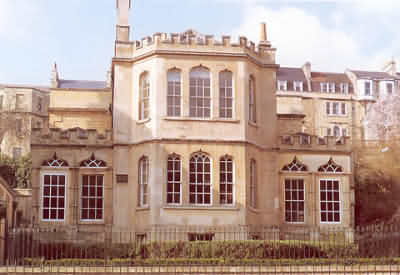 Strangers and sojourners below

(S.A.T.B.Kbd.)
Full score (PDF), €0.00 for unlimited copies Download this item
Printable cover page (PDF), €0.00 for unlimited copies Download this item

Please click here to report any problem obtaining a PDF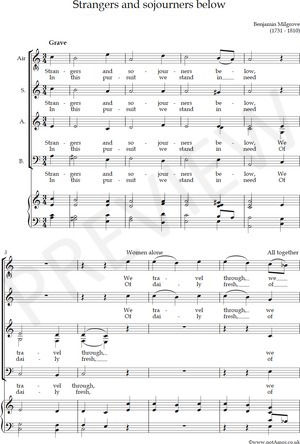 Page 1 of 8
Milgrove was Precentor of the Countess of Huntingdon's Chapel in Bath (see illustration). This setting comes from his first (of three) collections of "hymns as they are sung at the Right Honourable the Countess of Huntingdon's chappel in Bath". The general congregation (sometimes divided into men and women) should sing the Air, accompanying harmonies to be taken by the choir.
If this hymn really is "as it was sung", and is not just an aspirational setting by Milgrove, then it bears testimony to a high level of musical capability within the members of the chapel's congregation.
Lyrics: Anon

Strangers and sojourners below,
We travel through this wilderness;
Seeking the promised rest to know
In Christ, the fountain of true bliss.
We seek a place beyond the skies,
An everlasting paradise.

In this pursuit we stand in need
Of daily fresh supplies of grace:
Our souls with manna Christ must feed,
While we his leading footsteps trace:
So shall each pilgrim gladly move
Onward unto his home above.

No earthly joy is worth our stay,
Or struggle for another breath:
These comforts vanish and decay,
And yield no true solace in death:
While others vain delights pursue,
We taste God's love for ever new.

His cross inflicts the deadly blow,
And crucifies each rebel sin:
Peace, love and joy hence richly flow,
And cause sweet melody within:
Dependent on the God of pow'r,
We glory in a suff'ring hour.

The new Jerusalem appears,
Her citizens resplendent shine:
For God hath wiped away her tears,
And filled them with the life divine:
With joy we shall his glory see,
And praise him through eternity.