notAmos Performing Editions
1 Lansdown Place East, Bath
BA1 5ET, UK
+44 (0) 1225 316145
Email

Performing editions of pre‑classical music
with full preview/playback and instant download

Benjamin Cooke

(1734 - 1793)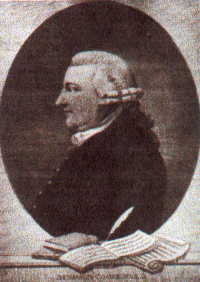 As now the shades of eve imbrown

(S.S.A.B. + reduction)
Full score (PDF), €0.40 for a single copy Buy this item
Choir offer (PDF), €2.50 for 12 copies Buy this item
Printable cover page (PDF), €0.00 for unlimited copies Download this item

Please click here to report any problem obtaining a PDF
Page 1 of 8
For licensing/copyright information please click
here
This glee gained a Catch Club prize medal in 1782.
Lyrics: Anon

As now the shades of eve imbrown
The scenes where pensive poets rove,
From care remote from envy's frown
The joys of inward joy I prove.

What holy strains around me swell,
No wildly rude tumultuous sound;
They fix the soul in magic spell;
Soft let me tread this favour'd ground.

Sweet is the gale that breathes the Spring,
Sweet thro' the vale yon winding stream,
Sweet are the notes Love's warblers sing,
But sweeter Friendship's solemn theme.