notAmos Performing Editions
1 Lansdown Place East, Bath
BA1 5ET, UK
+44 (0) 1225 316145
Email

Performing editions of pre‑classical music
with full preview/playback and instant download

Thomas Arne

(1710 - 1778)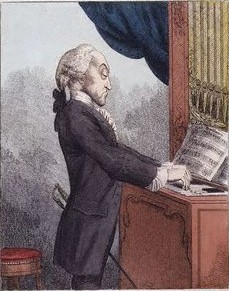 Soft pleasing pains

(S.A.T.B. + reduction)
Full score (PDF), €0.20 for a single copy Buy this item
Choir offer (PDF), €1.00 for 12 copies Buy this item
Printable cover page (PDF), €0.00 for unlimited copies Download this item

Please click here to report any problem obtaining a PDF
Page 1 of 5
For licensing/copyright information please click
here
A song by Arne reharmonised and arranged for use as a glee by Joseph Corfe.
Lyrics: Anon

Soft pleasing pains, unknown before,
My beating bosom feels,
When I behold the blissful bow'r,
Where dearest Delia dwells;
That way I daily drive my flock,
Ah, happy, happy vale;
There look and wish and, while I look,
My sighs increase the gale.

O tell, ye shades that hold my fair,
And all my bliss contain,
Ah, why should ye those blessings share,
For which I sigh in vain.
Yet let me not at fate repine,
Nor thus my griefs impart;
She's not your tenant, she is mine,
Her mansion is my heart.