notAmos Performing Editions
1 Lansdown Place East, Bath
BA1 5ET, UK
+44 (0) 1225 316145
Email

Performing editions of pre‑classical music
with full preview/playback and instant download

Joseph Corfe (arr.)

(1740 - 1820)


Full fathom five

(S.A.T.B. + reduction)
Full score (PDF), €0.20 for a single copy Buy this item
Choir offer (PDF), €1.00 for 12 copies Buy this item
Printable cover page (PDF), €0.00 for unlimited copies Download this item

Please click here to report any problem obtaining a PDF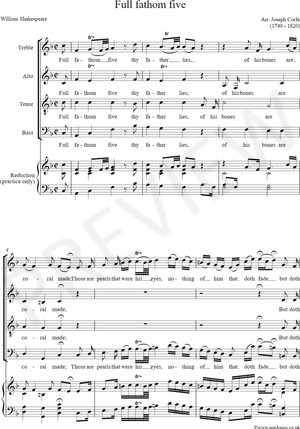 Page 1 of 5
For licensing/copyright information please click
here
Corfe, organist of Salisbury Cathedral, 1792 - 1804, issued two sets of "Twelve glees.... composed from ancient Scotch melodies" in the early 1790s, to satisfy two contemporary enthusiasms: that for mixed sex social music, and that for all things North-British. The current arrangement comes from the second set, and is not of Scottish origin, but a setting of Shakespeare. It is not known whether the piece is Corfe's own, or the arrangement of another composer's setting. The latter is more probable.
Lyrics: William Shakespeare

Full fathom five thy father lies;
Of his bones are coral made;
Those are pearls that were his eyes:
Nothing of him that doth fade
But doth offer a sea-change
Into something rich and strange.
Sea-nymphs hourly ring his knell:
Hark, now I hear them:
Ding dong bell.