notAmos Performing Editions
1 Lansdown Place East, Bath
BA1 5ET, UK
+44 (0) 1225 316145
Email

Performing editions of pre‑classical music
with full preview/playback and instant download

Bartholomew Cooke

(fl.1794 - 1798)


Sweet is the breath of balmy morn

(S.S.A.B. + reduction)
Full score (PDF), €0.30 for a single copy Buy this item
Choir offer (PDF), €2.00 for 12 copies Buy this item
Printable cover page (PDF), €0.00 for unlimited copies Download this item

Please click here to report any problem obtaining a PDF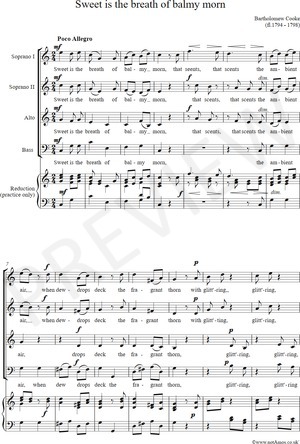 Page 1 of 6
For licensing/copyright information please click
here
The titlepiece for this glee is ambiguous. Cooke was the publisher (in Dublin), but may not have been the composer.
Lyrics: Anon

Sweet is the breath of balmy morn,
That scents the ambient air
When dewdrops deck the fragrant thorn,
With glitt'ring spangles fair.

Fair is the face that Nature shews
When vernal beauties bloom;
When Flora's tribes their charms disclose
And shed their rich perfume.

But sweeter than morn's fragrant breath
Are Delia's charms divine;
More fair than Spring or flow'r-clad heath
Her matchless beauties shine.