notAmos Performing Editions
1 Lansdown Place East, Bath
BA1 5ET, UK
+44 (0) 1225 316145
Email

Performing editions of pre‑classical music
with full preview/playback and instant download

Jacob Cubitt Pring

(1770 - 1799)


As I wove, with wanton care

(A.T.T.B. + reduction)
Full score (PDF), €0.40 for a single copy Buy this item
Choir offer (PDF), €2.50 for 12 copies Buy this item
Printable cover page (PDF), €0.00 for unlimited copies Download this item

Please click here to report any problem obtaining a PDF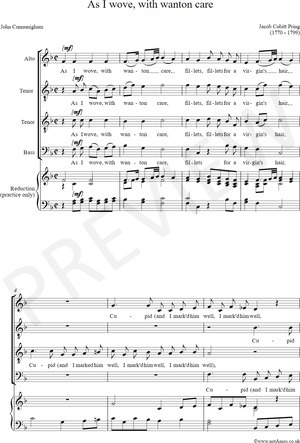 Page 1 of 8
For licensing/copyright information please click
here
Pring was organist of St Botolph Aldgate, and a founder member of the Concentores Society (glee club).
Lyrics: John Cunningham

As I wove, with wanton care,
Fillets for a virgin's hair,
Cupid (and I marked him well)
Hid him in a cowslip bell.
While he plumed a pointed dart,
Fated to inflame the heart,
Glowing with malicious joy,
Sudden I secured the boy,
And, regardless of his cries,
Bore the little frighted prize,
Where the mighty goblet stood,
Teeming with a rosy flood.
"Urchin", in my rage I cried,
"What avails thy fancy pride?
Thus I drown thee in my cup;
Thus in wine I drink thee up."