notAmos Performing Editions
1 Lansdown Place East, Bath
BA1 5ET, UK
+44 (0) 1225 316145
Email

Performing editions of pre‑classical music
with full preview/playback and instant download

Robert Cooke

(1768 - 1814)


With the gen'rous youthful soul

(A.T.T.B. + reduction)
Full score (PDF), €0.70 for a single copy Buy this item
Choir offer (PDF), €5.00 for 12 copies Buy this item
Printable cover page (PDF), €0.00 for unlimited copies Download this item

Please click here to report any problem obtaining a PDF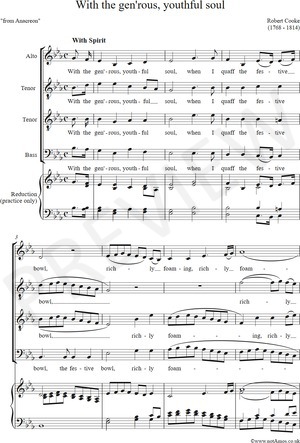 Page 1 of 13
For licensing/copyright information please click
here
"The cheerful glee", which was awarded a Catch Club gold medal in 1811.
Lyrics: "from Anacreon"

With the gen'rous youthful soul,
When I quaff the festive bowl,
Richly foaming in my mind,
Hence ye sorrows to the wind.

Friends, the laughing sweets prepare;
Drink a long farewell to care.
All the sweets, if sweets there are,
In a ling'ring life of care.

Taste, ye wretched, if ye will,
I of joy will take my fill,
Bid the sparkling bowl go round
And the praise of Bacchus sound.