notAmos Performing Editions
1 Lansdown Place East, Bath
BA1 5ET, UK
+44 (0) 1225 316145
Email

Performing editions of pre‑classical music
with full preview/playback and instant download

Richard John Samuel Stevens

(1757 - 1837)


Ask't thou how long my love shall stay

(A.T.T.B. + reduction)
Full score (PDF), €0.20 for a single copy Buy this item
Choir offer (PDF), €1.00 for 12 copies Buy this item
Printable cover page (PDF), €0.00 for unlimited copies Download this item

Please click here to report any problem obtaining a PDF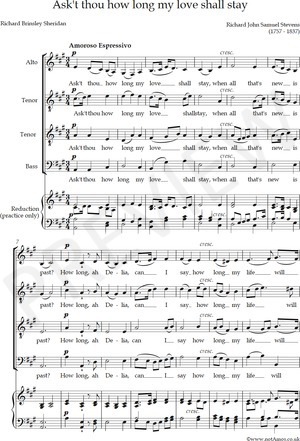 Page 1 of 5
For licensing/copyright information please click
here
This piece has a reply/pendant: Stevens' Think'st thou, my Damon, I'd forego.
Lyrics: Richard Brinsley Sheridan

Ask't thou how long my love should stay,
When all that's new is passed?
How long, ah Delia, can I say
How long my life will last?
Dry be that tear, be hush'd that sigh,
At least I'll love thee till I die.

And does that thought affect thee too,
The thought of Damon's death;
That he who only lives for you
Must yield his faithful breath.
Hush'd be that sigh, be dry that tear,
Nor let us lose our heaven here.