notAmos Performing Editions
1 Lansdown Place East, Bath
BA1 5ET, UK
+44 (0) 1225 316145
Email

Performing editions of pre‑classical music
with full preview/playback and instant download

Robert Valentine

(c.1672 - 1747)


Sonata in D major Op. 5 no. 3

(Any instruments (2))
Full score (PDF), €0.50 for a single copy Buy this item
Transposed score (PDF), €0.50 for a single copy Buy this item
Printable cover page (PDF), €0.00 for unlimited copies Download this item

Please click here to report any problem obtaining a PDF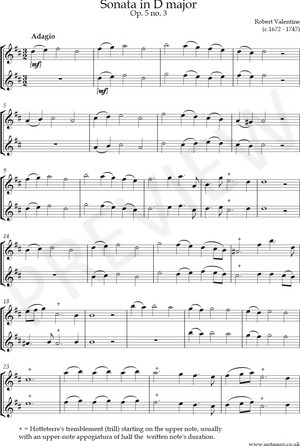 Page 1 of 5
For licensing/copyright information please click
here
Adagio - Allegro - Adagio - Allegro

Sonates a deux dessus Par le Sigr. ROBERTO VALENTINE. Opera Quinta. Accommodees a la Flute Traversiere par Mt. Hotteterre le Romn. Flute de la Chambre du Roy, et se peuvent executer sur les autres instruments de dessus.

Op. 5 was arranged for two melody instruments by Hotteterre and can be performed on (transverse) flutes, oboes or violins. A transposed version in F major has also been prepared to accommodate treble recorders.

Valentine was of the second generation of a prominent musical family that flourished in Leicester for more than a century. He became a naturalized Italian, settled in Rome and published throughout Northern Europe.