notAmos Performing Editions
1 Lansdown Place East, Bath
BA1 5ET, UK
+44 (0) 1225 316145
Email

Performing editions of pre‑classical music
with full preview/playback and instant download

John Christopher Smith

(1712 - 1795)


Where the bee sucks (reduced accompaniment)

(Song)
Voice and Keyboard part (PDF), €1.00 for a single copy Buy this item
Violoncello part (PDF), €0.50 for unlimited copies Buy this item
Printable cover page (PDF), €0.00 for unlimited copies Download this item
Score, part(s) and cover page (PDF), €1.50 for bundled copies Buy this item

Please click here to report any problem obtaining a PDF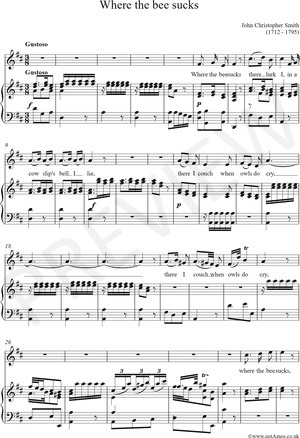 Page 1 of 3
For licensing/copyright information please click
here
From "The Fairies", 1755, an opera composed to an adaptation by Garrick of "A Midsummer Night's Dream". The piece is offered in its original version with orchestral accompaniment, and also with keyboard accompaniment comprising the instrumental parts condensed.
Lyrics: William Shakespeare

Where the bee sucks, there lurk I:
In a cowslip's bell I lie;
There I couch when owls do cry.
On the bat's back I do fly,
After sunset merrily.
Merrily, merrily shall I live now,
Under the blossom that hangs on the bough.