notAmos Performing Editions
1 Lansdown Place East, Bath
BA1 5ET, UK
+44 (0) 1225 316145
Email

Performing editions of pre‑classical music
with full preview/playback and instant download

Rev. J. Johnson

(fl.1797)


By shrubs that skirt the scented mead

(T.T.B. or S.S.B.)
Full score (PDF), €0.20 for a single copy Buy this item
Choir offer (PDF), €1.00 for 9 copies Buy this item
Printable cover page (PDF), €0.00 for unlimited copies Download this item

Please click here to report any problem obtaining a PDF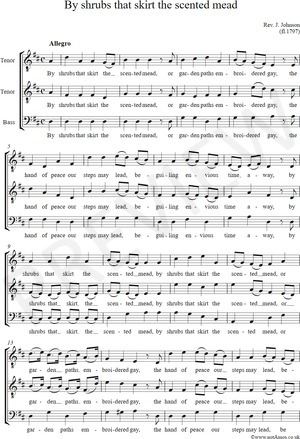 Page 1 of 3
For licensing/copyright information please click
here
Issued as one of
"Six glees for two, three and four voices, Compos'd by an Essex amateur
Entered at Stationers Hall. Price 3s."
and with the dedication
"To the Honble. Mrs Musgrave (as the best and most accomplish'd Woman of his acquaintance) These Glees are humbly inscribed by her devoted friend and servant The Author."

Study of the registers of Stationers' Hall shew the author behind the anonymity to have been one Rev. J. Johnson, but nothing further is known of him beyond his name.
Lyrics: Anon

By shrubs that skirt the scented mead,
Or garden paths embroidered gay,
The hand of peace our steps may lead,
Beguiling envious time away.

But rural life such scenes among,
In all its happiest mood is found:
When Philomela's warbled song
Pours melting melody around.