notAmos Performing Editions
1 Lansdown Place East, Bath
BA1 5ET, UK
+44 (0) 1225 316145
Email

Performing editions of pre‑classical music
with full preview/playback and instant download

Joseph William Holder

(1764 - 1832)


Again the balmy zephyr blows

(S.A.T.B. + reduction)
Full score (PDF), €0.20 for a single copy Buy this item
Choir offer (PDF), €1.00 for 12 copies Buy this item
Printable cover page (PDF), €0.00 for unlimited copies Download this item

Please click here to report any problem obtaining a PDF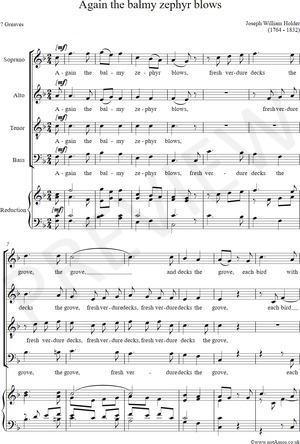 Page 1 of 4
For licensing/copyright information please click
here
Holder described himself in the frontispiece of his collection of glees, Op. 6 as organist of Bungay, Suffolk.
Lyrics: ? Greaves

Again the balmy zephyr blows,
Fresh verdure decks the grove;
Each bird with vernal rapture glows
And tunes his notes to love.

Ye gentle warblers hither fly
And shun the noontide heat;
My shrubs are a cooling shade;
Supply my groves a safe retreat.