notAmos Performing Editions
1 Lansdown Place East, Bath
BA1 5ET, UK
+44 (0) 1225 316145
Email

Performing editions of pre‑classical music
with full preview/playback and instant download

Anon

(c.1799)


Hermit hoar

(T.T.B.)
Full score (PDF), €0.10 for a single copy Buy this item
Choir offer (PDF), €0.50 for 9 copies Buy this item
Printable cover page (PDF), €0.00 for unlimited copies Download this item

Please click here to report any problem obtaining a PDF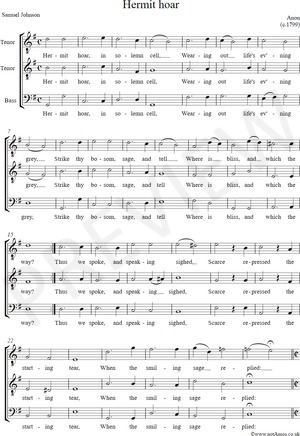 Page 1 of 2
For licensing/copyright information please click
here
The source does not disclose the composer of this setting of Johnson's words, guying some of the more earnest attitudes arising in the craze for employing hermits in landscaped parks.
Lyrics: Samuel Johnson

"Hermit hoar, in solemn cell,
Wearing out life's ev'ning grey,
Strike thy bosom, sage, and tell
Where is bliss and which the way?"
Thus we spoke, and speaking sighed,
Scarce repressed the starting tear;
When the smiling sage replied:
"Come, my lads, and drink some beer".