notAmos Performing Editions
1 Lansdown Place East, Bath
BA1 5ET, UK
+44 (0) 1225 316145
Email

Performing editions of pre‑classical music
with full preview/playback and instant download

Samuel Webbe

(1740 - 1816)


The Fragrant Painting of the Flow'ry Fields

(S.A.T.B. + reduction)
Full score (PDF), €0.70 for a single copy Buy this item
Choir offer (PDF), €5.00 for 12 copies Buy this item
Printable cover page (PDF), €0.00 for unlimited copies Download this item

Please click here to report any problem obtaining a PDF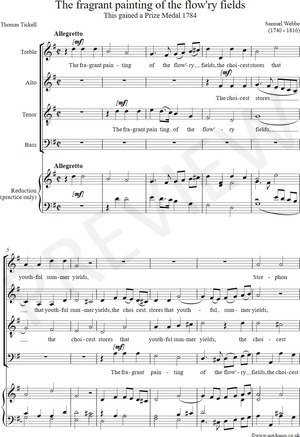 Page 1 of 9
This glee gained a Catch Club prize medal in 1784.
Lyrics: Thomas Tickell

The fragrant painting of the flow'ry fields
The choicest stores that youthful summer yields,
Strephon to fair Eliza hath conveyed:
The sweetest garland to the fairest maid.
O cheer the flow'rs my dear, and let them rest
On the Elysium of thy snowy breast.

But as this night shall see the wreath decline,
The roses wither and the lilies pine,
May that as a lesson to my charmer prove,
To spend each moment of her life in love.