notAmos Performing Editions
1 Lansdown Place East, Bath
BA1 5ET, UK
+44 (0) 1225 316145
Email

Performing editions of pre‑classical music
with full preview/playback and instant download

D major score, parts and cover page (PDF), €0.60 for bundle Buy this item
G major score, parts and cover page (PDF), €0.60 for bundle Buy this item

Please click here to report any problem obtaining a PDF

Click on the illustration to display a larger version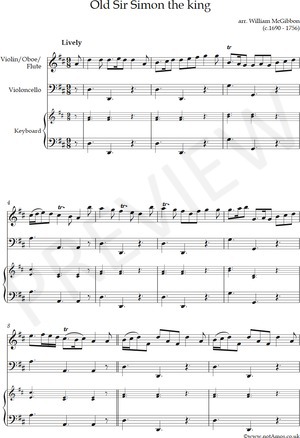 Page 1 of 5
For licensing/copyright information please click
here
One night it entered my mind to wander up and down
No company could I find 'til I came to the Rose and Crown
The barman was sick with the mumps, the maid was ill at her ease
The tapster was down in the dumps: they were all of one disease:
For drink shall make a man drunk, drunk shall make a man dry,
Dry shall make a man sick and sick shall make a man die
Says old Sir Simon the king, old Sir Simon the king
With his ale dropped toes and his malmesy nose
Sing hey ding ding-a ding ding

The tune's first appearance in print was in the 6th (1679) edition of the "Dancing Master" but it was first printed in its prevalent form as a set of variations with a ground bass in "Musick's Handmaid", 1689, attributed to Henry Purcell.

The current set was published in McGibbon's "Collection of Scots tunes", c.1760. and is offered in D major with the violin in mind, and in G major for the treble recorder.