notAmos Performing Editions
1 Lansdown Place East, Bath
BA1 5ET, UK
+44 (0) 1225 316145
Email

Performing editions of pre‑classical music
with full preview/playback and instant download

Full score (PDF), €0.40 for a single copy Buy this item
Choir offer (PDF), €2.50 for 12 copies Buy this item
Printable cover page (PDF), €0.00 for unlimited copies Download this item

Please click here to report any problem obtaining a PDF

Click on the illustration to display a larger version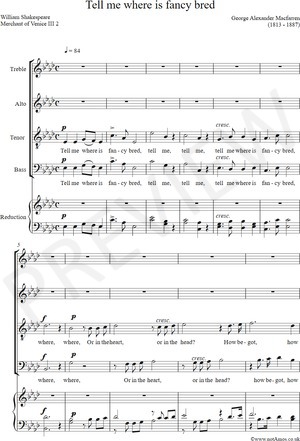 Page 1 of 6
For licensing/copyright information please click
here
One from Macfarren's collection of settings of "Shakspere songs".
Lyrics: William Shakespeare

Tell me, where is fancy bred,
Or in the heart, or in the head?
How begot, how nourished?
Reply where.
It is engender'd in the eyes,
With gazing fed, and fancy dies,
In the cradle where it lies,
Let us all ring fancy's knell,
I'll begin it: ding dong bell.