notAmos Performing Editions
1 Lansdown Place East, Bath
BA1 5ET, UK
+44 (0) 1225 316145
Email

Performing editions of pre‑classical music
with full preview/playback and instant download

James Brooks

(1760 - 1809)


Louisa

(S./T.2Vn.Va.Vc.)
Full score (PDF), €0.50 for a single copy Buy this item
Violin I part (PDF), €0.30 for unlimited copies Buy this item
Violin II part (PDF), €0.30 for unlimited copies Buy this item
Viola part (PDF), €0.30 for unlimited copies Buy this item
Violoncello part (PDF), €0.30 for unlimited copies Buy this item
Printable cover page (PDF), €0.00 for unlimited copies Download this item
Score, part(s) and cover page (PDF), €1.60 for bundled copies Buy this item

Please click here to report any problem obtaining a PDF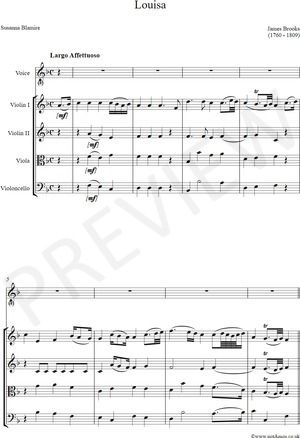 Page 1 of 4
For licensing/copyright information please click
here
A Favorite Song sung by Mr Incledon At the Subscription Concerts of Bath and Bristol Composed by J. Brooks. Printed for and sold by the Author and at Preston's Warehouse. 1788.
Lyrics: Susanna Blamire

When night's dark mantle veiled the seas
And nature's self was hushed to sleep,
When gentle blew the midnight breeze,
Louisa sought the boundless deep.
On a lonely beach, in wild despair,
She sat recluse from soft repose;
Her artless sorrows rent the air,
So sad were fair Louisa's woes.

Three years she nursed the pleasing thought
Her lover Henry would return
When ah, the fatal news was brought
The sea was made his wat'ry urn.
Sweet maids, who know the pow'r of love,
You best can tell what she must feel,
Who 'gainst each adverse fortune strove
The tender passion to conceal.

The lovely maid, absorbed with grief,
While madness ran through ev'ry vein,
Poor mourner sought from death relief,
And frantic plunged into the main.
The heavens with pity saw the deed,
The debt the fair one paid to love,
And bade their angel guard proceed
To bear Louisa's soul above.