notAmos Performing Editions
1 Lansdown Place East, Bath
BA1 5ET, UK
+44 (0) 1225 316145
Email

Performing editions of pre‑classical music
with full preview/playback and instant download

Venanzio Rauzzini

(1746 - 1810)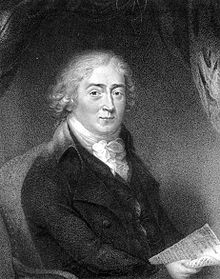 The Topsail Fills, the Waving Bark Unmoors

(T.Ob./Cl.Bsn.2Vn.Va.Vc.)
Full score (PDF), €1.40 for a single copy Buy this item
Oboe or Clarinet part (PDF), €0.10 for unlimited copies Buy this item
Bassoon part (PDF), €0.10 for unlimited copies Buy this item
Violin I part (PDF), €0.10 for unlimited copies Buy this item
Violin II part (PDF), €0.10 for unlimited copies Buy this item
Viola part (PDF), €0.10 for unlimited copies Buy this item
Violoncello & Contrabass part (PDF), €0.10 for unlimited copies Buy this item
Printable cover page (PDF), €0.00 for unlimited copies Download this item
Score, part(s) and cover page (PDF), €2.00 for bundled copies Buy this item

Please click here to report any problem obtaining a PDF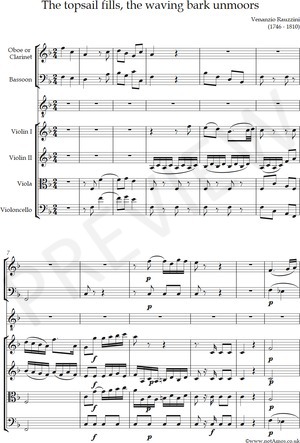 Page 1 of 8
For licensing/copyright information please click
here
A favorite Song, sung by Mr Incledon at the Bath concerts. Composed by Sigr. Rauzzini.
Lyrics: Anon, probably the composer

The topsail fills, the waving bark unmoors,
Adieu, dear isle, I fly thy charming shore.
Where oft, alas, attention fondly strove
In Delia's heart to trace her Henry's love.

Go, gentle gale, ah waft my parting sigh,
Fraught with the anguish of a heart that dies.
Breathe all the sorrows of a sad adieu,
Then swiftly speed me from the siren's view.

And thou sweet soother, whose responsive strain
Returns each sigh with echoes, and echoes ev'ry pain,
O hear this poignant pang; these pangs of wild despair
And softly sigh them to the cruel fair.