notAmos Performing Editions
1 Lansdown Place East, Bath
BA1 5ET, UK
+44 (0) 1225 316145
Email

Performing editions of pre‑classical music
with full preview/playback and instant download

Full score (PDF), €0.00 for unlimited copies Download this item
Printable cover page (PDF), €0.00 for unlimited copies Download this item

Please click here to report any problem obtaining a PDF

Click on the illustration to display a larger version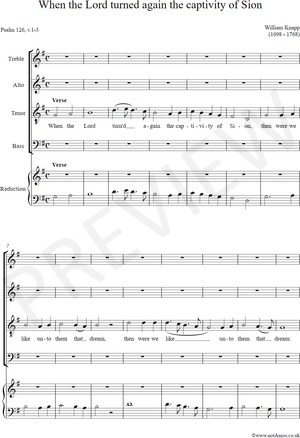 Page 1 of 7
This work, Knapp : When the Lord turned again the captivity of Sion : scoreid 146650
, as published by
notAmos Performing Editions
, is licensed under a
Creative Commons Attribution-ShareAlike 4.0 International License
. All relevant attributions should state its URL as
https://www.notamos.co.uk/detail.php?scoreid=146650
. Permissions beyond the scope of this licence may be available at
https://www.notamos.co.uk/index.php?sheet=about
.
Knapp was a glover and tutor of psalmody in Poole. His "Set of new Psalm Tunes and Anthems" was popular, achieving 8 editions between 1738 and 1770. Knapp's constituency was country (predominantly organless) parishes. The reduction provided with the current edition is best reserved for rehearsal use only.

Psalm 126 was specified in the Book of Common Prayer as a part of the liturgy for 29th Nay, the anniversary of the Restoration of Charles II. Introduced in 1662 as part of the post-restauration settlement, the liturgies for 30th January (Charles, King and Martyr's Day), 29th May and 5th November (Gunpowder Plot) were included in the BCP until 1859.
Lyrics: Psalm 126, v.1-3

When the Lord turned again the captivity of Sion: then were we like unto them that dream.
Then was our mouth filled with laughter: and our tongue with joy.
Then said they among the heathen: The Lord hath done great things for them.
Yea, the Lord hath done great things for us already: whereof we rejoice.