notAmos Performing Editions
1 Lansdown Place East, Bath
BA1 5ET, UK
+44 (0) 1225 316145
Email

Performing editions of pre‑classical music
with full preview/playback and instant download

Robert Cooke

(1768 - 1814)


Away! Let nought to love displeasing

(S.A.T.B. + reduction)
Full score (PDF), €0.70 for a single copy Buy this item
Choir offer (PDF), €5.00 for 12 copies Buy this item
Printable cover page (PDF), €0.00 for unlimited copies Download this item

Please click here to report any problem obtaining a PDF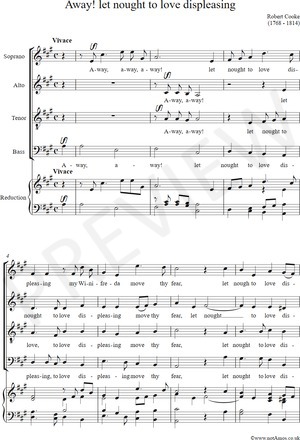 Page 1 of 14
For licensing/copyright information please click
here
A piece written for the members of the Concentores (glee club).
Lyrics: Anon

Away! Let nought to love displeasing
My Winifreda move thy fear;
Let nought delay the heav'nly blessing,
Nor squeamish pride, nor gloomy care:
What tho' no grants of royal donors
With pompous titles grace our blood;
We'll shine in more substantial honours,
And to be noble we'll be good.

Through youth and age in love excelling
We'll hand in hand together rove;
Sweet smiling peace shall crown our dwelling,
And babes, sweet smiling babes, our love.
And when with envy time transported
Shall think to rob us of our joys;
You'll in your girls again be courted,
And I'll go wooing in my boys.