notAmos Performing Editions
1 Lansdown Place East, Bath
BA1 5ET, UK
+44 (0) 1225 316145
Email

Performing editions of pre‑classical music
with full preview/playback and instant download

William Dixon

(1760 - 1825)


The Gorgon

(A./T.T.B. or S.S.A.)
ATB score (PDF), €0.30 for a single copy Buy this item
SSA score (PDF), €0.30 for a single copy Buy this item
TTB score (PDF), €0.30 for a single copy Buy this item
Choir offer - ATB score (PDF), €1.50 for 9 copies Buy this item
Choir offer - TTB score (PDF), €1.50 for 9 copies Buy this item
Choir offer - SSA score (PDF), €1.50 for 9 copies Buy this item
Printable cover page (PDF), €0.00 for unlimited copies Download this item

Please click here to report any problem obtaining a PDF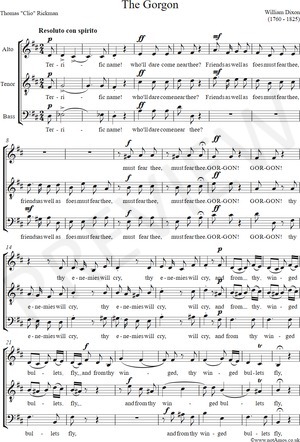 Page 1 of 3
For licensing/copyright information please click
here
"Six lively glees for Three Voices composed and by permission respectfully dedicated to Sir J A Stevenson Mus. Doc. by an Wm. Dixon. N.B. these glees are within the compass of Ladies voices. Engraved and Published by the Author and may be had at the principal Music Shops." London, c.1805.
Lyrics: Thomas "Clio" Rickman

Terrific name! who'll dare come near thee?
Friends as well as foes must fear thee.
GORGON thy enemies will cry,
And from thy winged bullets fly;
While friends thy name will backward read,
And from thy thirsty bark recede.
For thus exclaims each waggish dog,
"I'll board no ship where there's NO GROG".