notAmos Performing Editions
1 Lansdown Place East, Bath
BA1 5ET, UK
+44 (0) 1225 316145
Email

Performing editions of pre‑classical music
with full preview/playback and instant download

Theodore Aylward

(1730 - 1801)


Hail hallow'd vault (glee)

(S.A.T.B. + reduction)
Full score (PDF), €0.30 for a single copy Buy this item
Choir offer (PDF), €2.00 for 12 copies Buy this item
Printable cover page (PDF), €0.00 for unlimited copies Download this item

Please click here to report any problem obtaining a PDF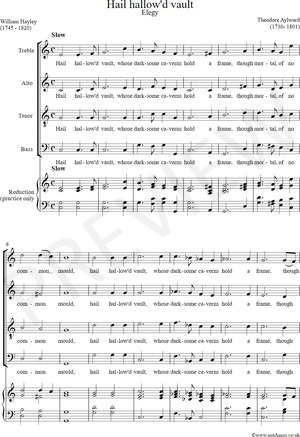 Page 1 of 5
For licensing/copyright information please click
here
Published in Aylward's collection of elegies and glees, Op. 2, London, c.1790. Aylward also published a three part setting of this text for use as a canzonet.
Lyrics: William Hayley

Hail hallow'd vault, whose darksome caverns hold
A frame, thogh mortal, of no common mould;
A heart scarce sullied with a human flaw.
Which shunned no duty and transgressed no law;
In joy still guarded, in distress serene,
Through life a model of the golden mean;
Which friendship only led him to transgress,
Whose heavenly spirit sanctifies excess.