notAmos Performing Editions
1 Lansdown Place East, Bath
BA1 5ET, UK
+44 (0) 1225 316145
Email

Performing editions of pre‑classical music
with full preview/playback and instant download

Score, part(s) and cover page (PDF), €0.50 for bundled copies Buy this item

Please click here to report any problem obtaining a PDF

Click on the illustration to display a larger version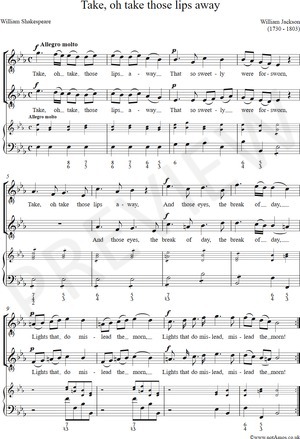 Page 1 of 3
For licensing/copyright information please click
here
From Twelve Canzonets, Op. 9, London, 1770.

Jackson was a pupil of John Travers, and wrote canzonets and elegies after the model established by Travers, close to, but separate from, the glee tradition. He was organist of Exeter Cathedral and a theorist on music. A friend of Thomas Gainsborough, he corresponded with him on the subject of aesthetics.
Lyrics: William Shakespeare

Take, O take those lips away,
That so sweetly were forsworn;
And those eyes, the break of day,
Lights that do mislead the morn.
But my kisses bring again
Seals of love, but seal'd in vain.