notAmos Performing Editions
1 Lansdown Place East, Bath
BA1 5ET, UK
+44 (0) 1225 316145
Email

Performing editions of pre‑classical music
with full preview/playback and instant download

Full score (PDF), €0.50 for a single copy Buy this item
Choir offer (PDF), €3.50 for 12 copies Buy this item
Printable cover page (PDF), €0.00 for unlimited copies Download this item

Please click here to report any problem obtaining a PDF

Click on the illustration to display a larger version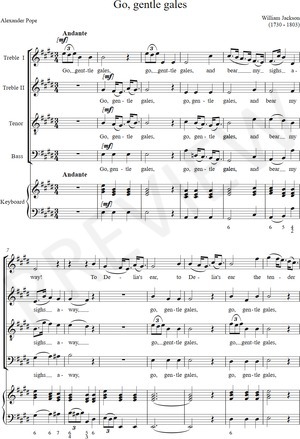 Page 1 of 7
For licensing/copyright information please click
here
Jackson was a pupil of John Travers, and wrote canzonets and elegies after the model established by Travers, close to, but separate from, the glee tradition. He was organist of Exeter Cathedral and a theorist on music. A friend of Thomas Gainsborough, he corresponded with him on the subject of aesthetics.

This piece is an expansion of a solo song, published in Jackson's vocal quartets, Op. XI.
Lyrics: Alexander Pope

Go, gentle gales, and bear my sighs away,
To Delia's ear the tender notes convey.
As some sad turtle his lost love deplores,
And with deep murmurs fills the sounding shores,
Thus far from Delia to the woods I mourn,
Alike unheard, unpitied, and forlorn.

Go, gentle gales, and bear my sighs away;
Come, Delia, come, ah why this long delay?
Ye flow'rs that droop forsaken by the spring,
Ye birds that left by summer cease to ring,
Ye trees that fade when autumn heats remove,
Say, is not absence death to those that love?