notAmos Performing Editions
1 Lansdown Place East, Bath
BA1 5ET, UK
+44 (0) 1225 316145
Email

Performing editions of pre‑classical music
with full preview/playback and instant download

James Hook

(1746 - 1827)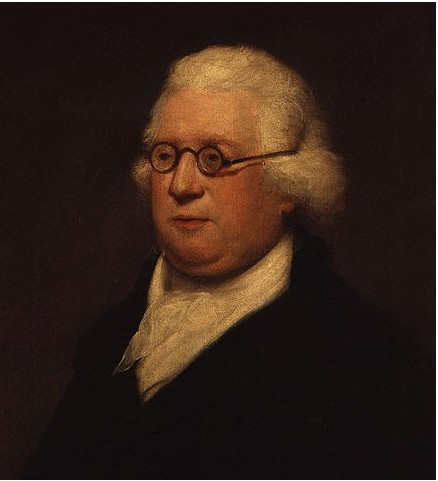 Great Britain triumphant

(S.S/T.T.B.(2Fl.)2Ob.2Bsn.2Tpt.2Hn.Tmpni.2Vn.Va.Vc./Cb.Kbd.)
Score, part(s) and cover page (PDF), €12.00 for bundled copies Buy this item

Please click here to report any problem obtaining a PDF

Click on the illustration to display a larger version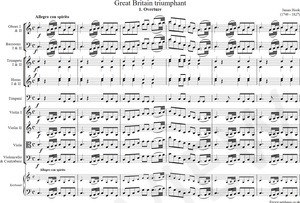 Page 1 of 47
For licensing/copyright information please click
here
1. Overture - 2. Hail Britannia, great and free - 3. For England's peace I quit ignoble ease - 4. What then shall I? - 5. For thee my fair - 6. When England's invaded - 7. Arm, valiant heroes

Written for performance at Vauxhall in 1794, during the period of burgeoning patriotism following Lord Howe's naval victory, the Glorious First of June. This is an afterpiece, setting a text by William Upton, which offers several vignettes, essentially as separate songs. With the exception of a common lyricist, there is no material to bind the individual into a coherent whole; a lack which causes an unsatisfactory conclusion, dramatically and musically. As a writer of individual songs, however, Hook was much respected.

The piece calls for an extravagant number of forces. These may be pared down a little for modern performance.
Hook's score gives arias to Anna Maria Franklin (soprano, 3) , Miss ? Milne (soprano, 7), Rosemond Mountain (soprano, 4,5), Edmund Phelps (treble, 4,5) Charles Dignum (tenor, 1,2,3) and Charles Taylor (Bass, 6), with a chorus (2) drawn from the ensemble.. There is an element here of using all singers who had been contracted for that season at Vauxhall, and the piece may be performed with four: SSTB, or STTB (with Master Phelps' part sung by either soprano or tenor).
Similarly, Vauxhall employed instrumentalists expected to play both oboe and flute. One air (5) calls for the latter instrument, but it is no less effective for the oboes, in whose parts it may be found.

Trumpet parts are for trumpets in C (Hook's specification). Horn parts are provided in both C and in Bb.
Lyrics: William Upton

When Fame's shrill trumpet rous'd the slumb'ring world,
And War's dread thunder peal on peal was hurl'd,
Old England's genius wav'd his awful breast
And thus the goddess of the gales address'd:
Hail Britannia great and free;
No power shall you subdue,
For soon thy vaunting foes shall see
All nations bend to thee.

For England's peace I quit ignoble ease;
Sweet girl adieu, 'tis glory calls afar.
But wheresoe'er I sail on swelling seas,
Thou art my compass and my guiding star.

Farewell, brave youth, since honour calls thee hence,
May valour ever in thy bosom burn.
Eternal love shall be thy recompense,
And every wish shall hail thy safe return.

What then shall I, thus young, remain behind?
Forbid it, Honour, and forbid it, Love!
Say, lovely maid, wilt thou be ever kind
If in the field a soldier's worth I prove?

Believe me ever, for tho' hard to part
Each Britain sure must hail thee with applause;
And while I bear thee ever in my heart,
Fight, fight, my soldier, in thy country's cause.

For thee, my fair, I'll brave the field,
Where deeds of glory grow,
Nor shall thy soldier ever yield
To Britain's boasting foe.

For thee, my love shall truly prove
E'er constant and sincere;
And wheresoe'er you chance to rove,
I'll think on thee my dear.

Tho' torn, my charmer, from thine arms
Where e'er I chance to be,
In midst of foes or dread alarms,
Each thought shall turn to thee.

And when sweet peace shall waft thee home
To Britain's happy shore,
Tho' others may incline to roam,
Oh, we will part no more.

O never, never will we part,
But find eternal charms,
When heart may freely spring to heart,
Lock'd in each other's arms.

When England's invaded her sons shall advance,
And prove what it is to be free;
And vengeance shall teach the usurpers of France
That justice is true liberty.

Arm, valiant heroes, arm in Britain's cause;
Assert your rights, revenge your brothers slain.
Defend your king, your country and your laws,
And prove your charter o'er the subject main.