notAmos Performing Editions
1 Lansdown Place East, Bath
BA1 5ET, UK
+44 (0) 1225 316145
Email

Performing editions of pre‑classical music
with full preview/playback and instant download

John Davy

(1763 - 1824)


The Fairy Visions Melt Away

(S.A.T.B.Kbd.)
Full score (PDF), €0.50 for a single copy Buy this item
Choir offer (PDF), €3.60 for 12 copies Buy this item
Printable cover page (PDF), €0.00 for unlimited copies Download this item

Please click here to report any problem obtaining a PDF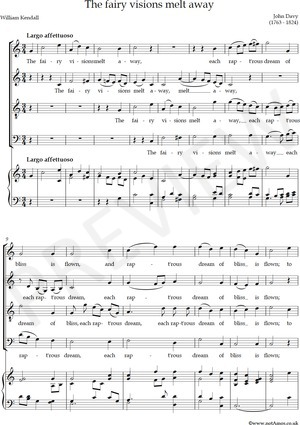 Page 1 of 8
For licensing/copyright information please click
here
Printed for the author and sold by Preston & son, London, 1790. The text is from Kendall's panegyric "To Mr Jackson of Exeter", viz. William Jackson.
Lyrics: William Kendall

The fairy visions melt away,
Each rapt'rous dream of bliss is flown;
To slow consuming grief a prey,
I feel of love the pangs alone.
When day's declining prospects fade
And darkness sad resumes her reign,
Eager I seek the midnight shade,
there 'mid th'imbow'ring woods complain.

Erstwhile I strayed, by fancy blest,
The pale moon oft in silver streams
(Delusive Hope was then my guest),
Shed o'er my path her pensive beams.
No more I court her pleasing light,
Roving amid the sickly air;
For Hope is lost in endless night,
And Fancy dwells not with Despair.