notAmos Performing Editions
1 Lansdown Place East, Bath
BA1 5ET, UK
+44 (0) 1225 316145
Email

Performing editions of pre‑classical music
with full preview/playback and instant download

Venanzio Rauzzini

(1746 - 1810)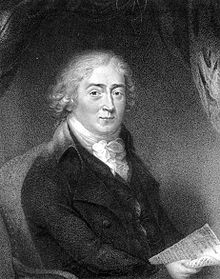 Ah, touch again that plaintive strain

(Song)
Full score (PDF), €0.60 for a single copy Buy this item
Printable cover page (PDF), €0.00 for unlimited copies Download this item

Please click here to report any problem obtaining a PDF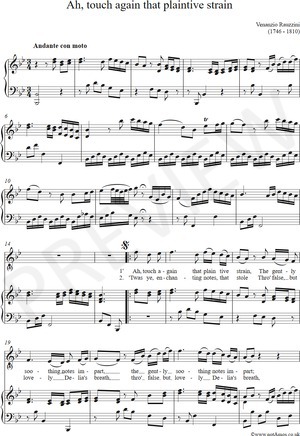 Page 1 of 4
For licensing/copyright information please click
here
A Favorite Song with an accompaniment for the Harp or Piano Forte. The Music by Sigr. Rauzzini.
Lyrics: Anon

Ah, touch again that plaintive strain,
The gently soothing notes impart;
A seeming solace to my pain
Yet, while they ravish, pierce the heart.
Touch it again; too well I know
The soft, seducing, dang'rous sound,
Which, while its measures sweetly flow,
Pours balmy poison in my wound.

'Twas ye, enchanting notes, that stole
Through false but lovely Delia's breath,
The joy and freedom of my soul,
And hid among your raptures, Death.
So the fond fly, impell'd by Fate,
Again the tempting treach'ry tries,
And, drinking deep the honied bait
Of sweet intoxication, dies.