notAmos Performing Editions
1 Lansdown Place East, Bath
BA1 5ET, UK
+44 (0) 1225 316145
Email

Performing editions of pre‑classical music
with full preview/playback and instant download

Jacob Handl

(1550 - 1591)


Domine Deus meus, exaltasti

(S.S.A.A.T.T.B.B.)
Full score (PDF), €0.00 for unlimited copies Download this item
Printable cover page (PDF), €0.00 for unlimited copies Download this item

Please click here to report any problem obtaining a PDF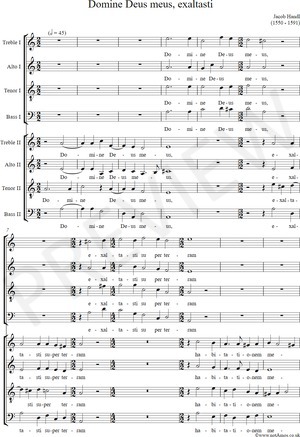 Page 1 of 10
This work, Handl : Domine Deus meus, exaltasti : scoreid 148103
, as published by
notAmos Performing Editions
, is licensed under a
Creative Commons Attribution-ShareAlike 4.0 International License
. All relevant attributions should state its URL as
https://www.notamos.co.uk/detail.php?scoreid=148103
. Permissions beyond the scope of this licence may be available at
https://www.notamos.co.uk/index.php?sheet=about
.
From Tertius Tomus Musici Operis, Prague, 1587.
Lyrics: Anon

Domine Deus meus, exaltasti super terram habitationem meam, et pro morte defluente deprecata sum.
Invocavi Dominum patrem Domini mei, ut non derelinquat me in die tribulationis mæ, et in tempore superborum sine adjutorio.
Laudabo nomen tuum assidue, et collaudabo illud in confessione: et exaudita est oratio mea et liberasti me de perditione, et eruisti me de tempore iniquo, propterea confitebor tibi.
Et laudem dicam nomine tuo, Domine Deus noster.

O Lord my God, thou hast exalted my earthly dwelling place, and I have prayed for the waning of death.
I called upon the Lord, the father of my Lord, that he would not leave me in the day of my adversities, nor without succour in the time of the haughty.
I will praise thy name constantly, and will extol it with thanksgiving: and my prayer was heard and you delivered me from destruction, and rescued me in the time of adversity: therefore I will acknowledge thee.
And I will praise thy name, O Lord our God.